We are excited to welcome you to UW–Madison and want to ensure that you have the information you need to get the most out of your Wiscard, your official photo ID and your key to campus life!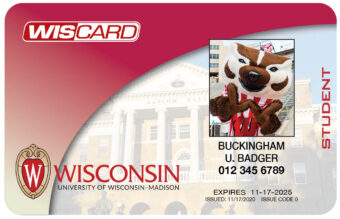 Your Wiscard is USED FOR:
• Access to campus buildings and doors
• Library card
• Membership card to recreational sports facilities and student union buildings
• Key to accessing both the Wiscard and Housing Resident Food accounts to pay for campus purchases
How to obtain your wiscard
The online photo submission option is no longer available for this term.  If you need a University ID please visit the Wiscard Office in Union South. A government issued ID is required for identification purposes. If you have additional questions, please see the FAQ's below.
New student Faq'S
How do I submit my photo online to receive my Wiscard?
1) Click on "Upload your photo" to get started
2) Log in with your NetID and password
3) Review the Terms and Conditions and click accept
4) Take a photo using your device or upload an existing photo (must be .jpeg, .png, or .gif file)
5) Upload a picture of your government issued ID
6) Review and submit photo
7) You will be notified if your photo was approved or denied. If denied please start the submission process over again
What are the photo requirements?
DO
• Current color photo taken in past 6 months
• Light colored background
• Proper lighting with no shadows
• Individual should be centered, face directly into camera with eyes open
• Crop photo from just above the top of head to just below shoulders
• Wear clothes that you would normally wear at school
DON'T
• Hats, sunglasses, or other items that obscure the face
• Shadows on face or behind head
• Other visible people, pets or objects in photo
• Inappropriate expressions
• Blurry photo
• Black and white photo
• Professional photos
• Tilted or turned head
Can I take a photo for my Wiscard in person at the Wiscard Office?
Yes, if you do not wish to upload a photo online a photo can be taken at the Wiscard Office located in Union South.
Can I change my photo submission?
Once your photo has been approved it cannot be changed.
Why do I need proof of a government issued ID?
The government ID is used to help confirm your identity.  In this instance in which you complete the online photo submission process, this image is deleted once the card has been approved for printing.
What if I don't have a government ID card to submit?
I'm having difficulties uploading my photo. What do I do now?
If you are receiving an error regarding SSO authorization, we recommend you clear your cache and cookies in your browser and try again.  If you are still having issues, email wiscard@union.wisc.edu.
Do you mail Wiscards?
We do not mail Wiscards. All ID's must be picked up in person and a government issued ID must be presented to obtain your ID.
Do I need a Wiscard if I am studying remotely?
A Wiscard is only needed for in-person campus services. If you will be taking all your classes online, we encourage you to wait until you come to campus to request your ID.
How can I set a preferred name?
You can identify yourself within the University, including in some official records, with a preferred first and/or middle name (not last name) that differs from your legal name. This is completely optional. Examples of when students might choose to use a preferred name include:
• You prefer to be called by a nickname instead of your legal name (e.g., "Jackie" instead of "Jacqueline")
• You would rather not have your middle name display as part of your commonly used campus name
• You have chosen a name that reflects your gender identity
• You are an International student who prefers to use a specific name while studying in the United States
As long as your preferred name is not used for misrepresentation, it will appear instead of your legal name in many university systems and documents—except where your legal name is required for a business or legal need. Click here for instructions on how to specify a preferred name.
Wiscard Account Program Brochure